---
Central Heating & Air Conditioning Service, Inc. knows that controlling your home comfort is important. That is why we offer a full line of Wi-Fi communicating thermostats from Honeywell.
Set your schedule or have it learn as your weeks move along, the various models we offer fit well with any lifestyle!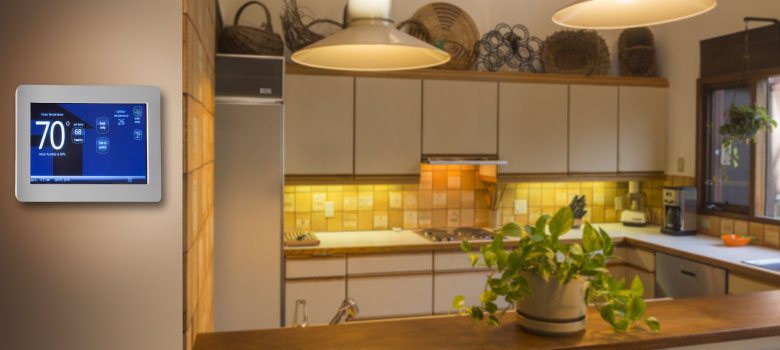 Wi-Fi Thermostats offer a hands-off luxury that regular manual thermostats could never achieve! Look at the models featured below and see how you could make your home's comfort precisely how you want it, when you want it.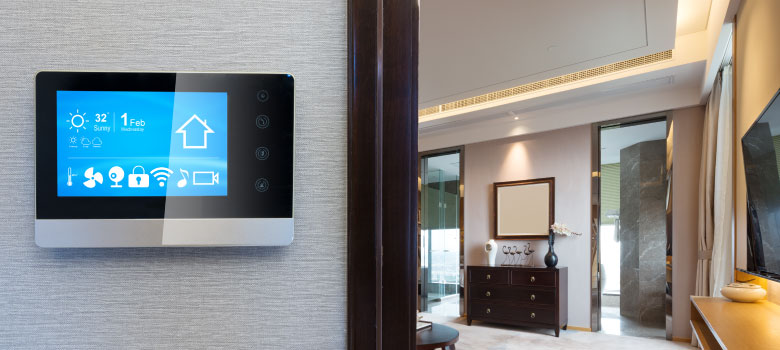 ---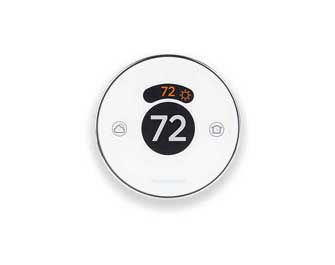 Lyric Thermostat
---
Comfort. Savings. Your life – in tune.
Lyric was designed for crazy schedules and spur-of-the-moment activities. You can control Lyric from anywhere on your smartphone, or let it adapt to your life as you go.
Lyric can save energy when you're away, and get the house warm when you're heading home. No more wasted energy when you're out for the night, and no more getting in from work to a cold house. It'll even let you know when the filter needs changing.
---
Design
A round, polished glass face. Motion-sense illumination. Simple touch-screen. Beautiful design.
Geofencing
Lyric uses your smartphone's location to work out where you are. 200 miles away? Then you probably don't need the heating on. Just round the corner, heading for home? Time to get the place warm.
Notifications
Lyric can send you notifications when the humidity changes, and if the temperature is too high or too low.
Perfect Temperature
In winter, it's not just the inside temperature that affects how you feel. Humidity and the outside temperature play a part too. With intelligent comfort control, the temperature feels just right, all the time.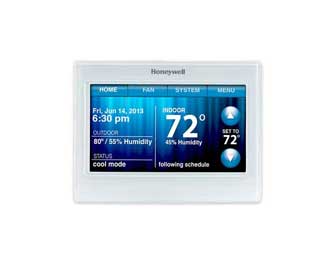 Wi-Fi 9000
---
Remote comfort control never looked this good
With your home's Wi-Fi connection, you can control this thermostat from anywhere in the house. Or with the Total Connect Comfort app, you can monitor or control your heating and cooling system with your smartphone from anywhere and anytime you choose. Back home, you'll like the look of the thermostat's colorful, high-definition touch screen. Change the color to any you wish. Simple programming and touch-screen input make the Wi-Fi 9000 thermostat easy to set up and intuitive to use.
---
Total Connect Comfort App
Remotely monitor/manage home's comfort and energy use anytime, anywhere
Customizable Display
High-definition display. Change colors easily to match décor or preference.
On-Screen Comfort Information
Home screen displays indoor/outdoor temperature and humidity, so you can check it before leaving the house
Auto Alerts
Receive system alerts to Wi-Fi enabled devices. You'll get an alert to change the filter without ever checking the filter.
Vision Pro
---
Your connected home now includes your thermostat
Connect our VisionPRO Wi-Fi 7-Day Programmable Thermostat to your Wi-Fi network. Now you're ready to program, monitor and manage from a smartphone, tablet or computer. Yes, it's that easy to manage your heating/cooling system or multiple systems. You can also use the large touchscreen display to easily input. Either way, VisionPRO has made it more convenient than ever for controlling your home's comfort and energy savings.
---
Remote Access
Remote Wi-Fi access to thermostat with smartphone, tablet or computer
Large Touchscreen Display
10-square-inch screen is easy to read
Auto Reminders
Receive system reminders about filter humidification pad and UV